wadiza.com is managed and operated by WADIZA Solutions Sdn Bhd (1235716-A), a Malaysian company based in Selangor. We're independent, tech obsessed and interested in getting everyone to live a smart life in the increasingly connected world. And we mean everyone, nobody should be left behind.

So why are we in your neighborhood? Realizing it wasn't cheap for everyone to have the devices to get connected, wadiza.com was created to provide more affordable solutions in getting all of us connected to the current technology. And again, we mean ALL of us. What you see everywhere costs thousands, but it didn't have to be. Online, we hope to reach more people of whom the only way of getting connected is via personal desktop computers or maybe laptops. We aim to provide portable devices that connects everyone anytime, anywhere. Because everyone deserves it.
That's not all. We also have various other exciting gadgets and electronics that will satisfy your lifestyle. They're all affordable that you won't have anymore doubts. We want wadiza.com to drive our neighbors to live a smart life by getting the technology to you.
Our products is sold by only one seller, that is us. It is not a marketplace like any major store now where you purchase from an unknown third party seller, not the store themselves. Neighborhoodly, with clean interface, not cluttered with thousands of products and intruding advertisements. No annoying salespersons pushing you to buy, instead your experience at our online store is just like at home. Nobody is treated like a stranger. At our store just look around and pick your choices, and get delivered. Any questions just use the live chat button to chat to us personally, live. We're determined to offer great friendly assistance without any discrimination.
We will be doing our best to to keep wadiza.com free from outside influence. We are not trying to grow the company so fast everything is a blur and then sell it for millions to some tech giant. We have a different vision of the future, one where you're the focus. We like to think our friendly neighborly approach works. So sit back and get connected. We are just somebody like you! Live the smart life with smart devices. Whether you're tech savvy or not, we'll help you every step of the way.
We have been awarded SSM BizTrust Level 3 Accreditation (Registration, Security & Privacy) by Suruhanjaya Syarikat Malaysia (SSM). Shop with peace of mind!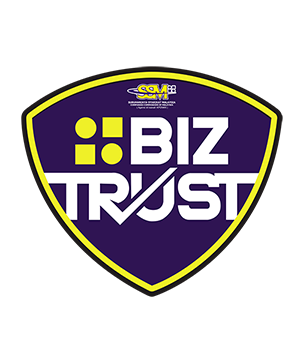 More information about the company is available at www.wadiza.solutions.
© 2017 wadiza.com